Meranti Garage Doors
There are two types of garages doors, namely:
Tension spring garage doors: Garage doors that operate by tension springs which in most cases are Single sectional garage doors or Double Tip up springs. Tension springs look like normal springs and are located on the left and right sides of the garage door above the horizontal tracks. As the garage door will lower/close you will see them stretch out and expand, and contract as the garage door opens.
Torsion spring garage doors: Those that operate by torsion springs which in most cases are double sectional or caravan single sectional. Torsion springs are the second type of garage springs – they look like tightly coiled springs above the garage roll up door, and as the door lowers or rises, they twist to contract or expand.
Sectional Garage Doors are the most popular and practical choice.
These doors comprise of horizontally hanged individual panels/sections. The tracking system is fitted with a set of vertical tracks, bends and horizontal tracks therefore the doors are fitted and operated vertically but lie horizontally flat underneath your ceiling when opened. You are provided with maximum drive through height and width and parking availability inches from the door without impairing functionality therefore they are ideal space savers. Sectional doors can be installed into garage doors with limited headroom or custom non standard openings. The bottom panels are fitted with a rubber weather strip to minimize dust and prevent rain from entering the garage. With these doors there are no swing out or tip up structures or tracking systems.
Chromadek sectional garage doors are manufactured from heat treated and powder coated high quality galvanized steel. The insulated doors have a double layer of chromadek steel embodying a thick layer of foam insulation. If you require low maintenance doors, these doors are perfect! Various colours are available in block pattern or horizontal slatted.
Meranti wood sectional garage doors are manufactured for high quality solid Meranti wood. Before installation we cover the doors with two layers of oil treatment. Our wooden doors are extremely popular and ensure for a modern, stylish finish to your home.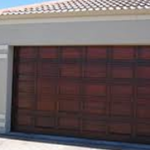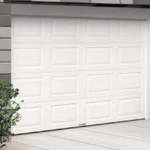 Get in touch to find out more